2014 Ram 1500 EcoDiesel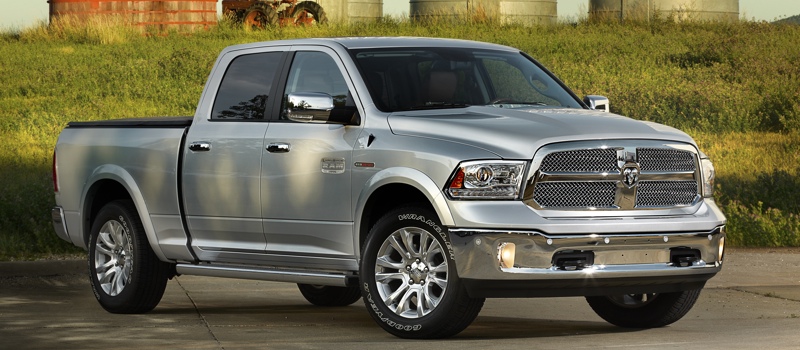 The Revolutionary 2014 Ram 1500 EcoDiesel Gives Weyburn Drivers Fantastic Power and Efficiency
Quick Links:
Just when all of us at Knight Weyburn Chrysler Dodge Jeep Ram thought that Ram trucks could not get any better or any more innovative, they went and designed the only light-duty truck on the market to feature a diesel engine: the 2014 Ram 1500 EcoDiesel. When you start to dive into the numbers and features, you will wish this truck had been around years ago.
We are clearly not the only ones who are excited, because the 2014 Ram 1500 was named the Motor Trend 2014 Truck of the Year, beating out some stiff competition and confidently driving away with the award. To see all that this impressive new truck can do, visit our Estevan-area Ram dealership. This is what you will find.
Powertrain
The 2014 Ram 1500 EcoDiesel features a 3.0L EcoDiesel V6 engine that provides an amazing combination of power and efficiency. It can produce 240 hp and 420 lb-ft of torque while still offering best-in-class fuel economy of up to 10.2 L/100 km in the city and 7.1 L/100 km on the highway. It makes the trips between Weyburn and Estevan easier than ever!
This truck also offers varying levels of 4×4 performance. Drivers can turn on 4-HI with just the touch of a button, which locks both drive shafts to give you extra grip and tighter handling. Switch it over to 4-LO, and your Ram transforms into a truck with a 2.72:1 gear reduction ratio for when you need to pull down a tree or climb a steep incline.
Capability
When you dive into the performance numbers delivered by the EcoDiesel engine, its amazing capabilities really become clear. In the new 2014 Ram 1500 EcoDiesel, you will be able to tow up to 10,450 pounds, which is more than enough to haul a piece of heavy equipment, a camper, or a trailer loaded up with motorcycles. And with a maximum payload up to 1,930 pounds, you can load the bed up with as much as it will hold.
The capabilities of the efficient diesel engine are also impressive, especially when you compare it to other models in this class. The Ford F-150 with a 3.0L EcoBoost V6 can travel 920 km on a single tank of gas — but the 2014 Ram 1500 with the 3.0L EcoDiesel V6 can travel 1,171 km on a single tank. Which would you prefer? And in your Ram 1500 EcoDiesel, you can travel up to 16,000 km between oil changes.
Technology
The EcoDiesel engine is not the only piece of innovative technology found in this Ram truck. On the outside, the 2014 Ram 1500 EcoDiesel features a unique grille design that maximizes air intake while minimizing drag, along with an active-level four-corner air suspension system for improved handling and ground clearance.
Inside the vehicle, there's a blend of technologies that add to the comfort and convenience of the driving experience. Along with the largest-in-class display cluster, the new Ram 1500 EcoDiesel comes with the Uconnect media hub, which allows you to connect with your cell phone, navigation system, mp3 player, and smartphone using voice commands. Plus, the multimedia hub in the center console is the perfect place to plug in and set up your laptop.
Design
A lot is new on the 2014 Ram 1500 EcoDiesel, but we're sure that Estevan drivers will agree that the designers were smart not to tinker too much with the truck's iconic looks. The body design features a forward-leaning front grille and stylish wheel designs that give this Ram a tough, ready-for-action look.
The inside is just as accomplished, having recently been named to the Ward's 10 Best Interiors list for 2014. But what is most exciting is how many options you have. In fact, the 2014 Ram 1500 EcoDiesel leads its class in terms of versatility, offering drivers 13 distinct trim levels, each with its own unique style. No matter how you want your Ram to look, whether for practical or aesthetic reasons, you have plenty of choices to work with.
Safety
With a truck this powerful, you are going to want to push it to the limit. But when you drive to the extreme, around Weyburn or elsewhere, you want to know you are protected by ironclad safety features, and the 2014 Ram 1500 delivers. Thanks to four-wheel disc anti-lock brakes and electronic stability control, you have total control over the vehicle. And thanks to a unique trailer sway control feature, the Ram 1500 EcoDiesel will automatically apply compensatory braking pressure if your trailer begins to lose control. There are also driver aids like an available rearview camera, park assist, and ready alert braking system, all of which can help you avoid common hazards before they become a problem.
Test Drive the 2014 Ram 1500 EcoDiesel
We could keep talking about why the 2014 Ram 1500 EcoDiesel is unparalleled in its class, but to really appreciate it, you need to get behind the wheel.
Experience the power by visiting Knight Weyburn Chrysler Dodge Jeep Ram at 1627 1st Ave. N.E. in Weyburn, SK. From Estevan, that is just a quick 1-hour drive straight up SK-39. Head in our direction, and prepare to be blown away by the 2014 Ram 1500 EcoDiesel.