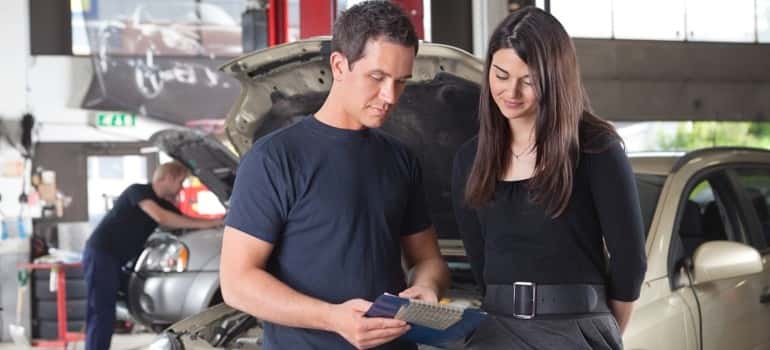 Great, Reliable, and Friendly Chrysler Service for Indian Head Residents
As the preferred Chrysler dealer in the area, Knight Weyburn Chrysler Dodge Jeep Ram is proud to offer high-quality Chrysler service to Indian Head residents. You'll be happy to know that our exemplary service department is only a short drive away from Indian Head. To reach us from there, simply:
Go southwest on Dewdney Street toward Buxton Street.
Take a slight right onto Railway Avenue, then turn left onto SK56 S. Go right onto SK-1 W.
Turn left onto SK-35 S, then make your first left onto First Avenue NE. We're on the left, at 1627 First Ave. NE.
Our goal is for the maintenance of your vehicle to be stress-free, easy and painless. That's why we're the Indian Head area's premier Chrysler dealer. Make an appointment today with our service department and experience the Knight Weyburn difference.
Making an Appointment
Our expert technicians are on site five days a week, from 8:00 a.m. to 5:30 p.m. to meet your service needs. Schedule service online, or call us at 306-842-7333. We offer a full range of services, including brake replacement, oil change, tire rotation, muffler repair, and more. We know that keeping up with your car can be a hassle — we're here to do it for you! Our commitment to service is one of the many reasons we're one of the Indian Head area's most respected Chrysler dealers: professional, prompt, and caring, we know what your vehicle needs.
Order Parts Today
If you need any parts — from suspension and steering components to auto body elements — we're pleased to order them. Simply fill out our online parts ordering form, and a representative will contact you shortly. We know it can be stressful to order parts on your own — that's why we do it for you.
Auto Detailing You Need
Does your vehicle need a vacuuming or a glass cleaning? We also provide auto detailing for when your car needs some cosmetic work. Check our website for a list of our prices.
Stop by Knight Weyburn for Excellent Chrysler Service!
Be prepared for great Chrysler service from our well-versed technicians. Only a short drive from Indian Head, Knight Weyburn Chrysler Dodge Jeep Ram is excited to offer you top-of-the-line service at reasonable prices. Make an appointment today!