2015 Jeep Wrangler vs. 2015 Subaru Forester
2015 Jeep Wrangler
2015 Subaru Forester
Estevan and Indian Head, SK drivers know that Jeep can always be trusted to provide phenomenal off-road SUVs, but the 2015 Jeep Wrangler has surpassed their wildest expectations, even when compared to capable competitors like the 2015 Subaru Forester.
Trim Levels and Price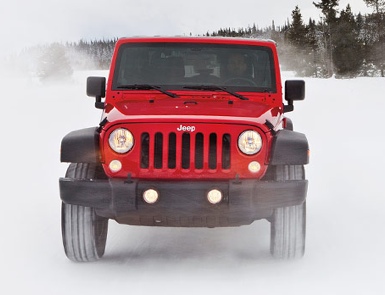 Indian Head drivers looking for a 2015 Jeep Wrangler will be able to select between seven exceptional trim levels:
Sport: Starting at just $21,195 you'll find premium cloth seating on the inside and high-performance on/off-road tires on the outside.
Sport S: Starting at $26,645, the Sport S adds air conditioning and 17- inch Moab sparkle silver aluminum wheels as standard.
Unlimited Sport S: Starting at $29,695, you'll enjoy the flexibility of 60/40-split seating.
Sahara: Starting at $32,870, the Sahara provides drivers with remote keyless entry, perfect for fast-paced people on the go.
Unlimited Sahara: Starting at $35,270, the Unlimited Sahara is for anyone taking larger groups on their adventures, with 4 doors as standard.
Rubicon: The Rubicon is a high performance machine with a high axle ratio for steep gradients and irregular terrain. It starts at only $35,870.
Unlimited Rubicon: Starting at $38,270, the Unlimited lives up to its name, with Tru-Lok front and rear axles and a Rock-Trac four-wheel-drive system for the most capable off-roading experience of your life.
The 2015 Subaru Forester has numerous trims, with the entry level model starting at $25,995 and including a rearview camera and steering wheel-mounted audio controls. The high-end trim is slightly more expensive than the Wrangler Unlimited Rubicon, and comes with a multimedia system that incorporates a touchscreen display and SMS text function.
Power and Efficiency
All 2015 Subaru Foresters are fitted with the same engine: a 2.5L 4-cylinder. Somewhat underpowered, this provides Subaru drivers with an output of 170 hp and 174 lb-ft of torque, though it does boast 9.6 L/100 km in the city and 7.5 L/100 km on the highway when using an automatic transmission, or 10.6 an 8.4 when equipped with a manual.
The 2015 Jeep Wrangler focuses on power. A 3.6L Pentastar V6 puts drivers in control of a best-in-class 285 hp and 260 lb-ft of torque. As for efficiency, 2-door models manage 14.2 L/100 km in the city and 11.0 L/100 km on the highway with a 6-speed manual transmission, or 14.1 and 11.1 with 5-speed automatic. 4-door models manage 15.0 L/100 km in the city and 11.4 L/100 km on the highway with a manual, or 14.8 and 11.7 on the highway with an automatic.
The 2015 Subaru Forester is more efficient, while the 2015 Jeep Wrangler is far more powerful. Of course, an SUV is for people who want to push their limits, not those who fret over mileage.
Off-Road Capability
When Estevan and Indian Head drivers think about off-roading, they think about Jeep. Years of experience have made Jeep the best in the world for rugged all-terrain contenders, and the 2015 Jeep Wrangler is no exception.
Unlike the 2015 Subaru Forester, each 2015 Jeep Wrangler comes with Trail Rated credentials. Jeep put these vehicles through a relentless series of tests to ensure that every element of off-roading performance goes beyond expectations, leaving Estevan drivers feeling confident when they head off the highway.
Trail Rated vehicles ensure solid performance, and Quadra-Coil suspension ensures durability and a smooth ride. Incorporating solid axles, heavy-duty coil springs, and tunable monotube shock absorbers, the Wrangler's suspension makes the roughest off-roading feel like a walk in the park. The standard suspension provided for the 2015 Forester simply can't compete.
Interior
The exterior of the 2015 Jeep Wrangler is rugged and ready for anything, but the interior offers a supreme level of comfort, as well as plenty of standard features that outclass those found in the 2015 Subaru Forester, including:
Sirius XM Satellite Radio: Standard for the Wrangler, with a complimentary one-year subscription. Only available on more expensive Foresters, and with just a three-month subscription.
Sound System: The Wrangler comes with eight high-quality speakers as standard, while the entry-level Forester is equipped with a meager four.
Storage: Jeep understands that outback adventurers need plenty of space to hold all their equipment, so the Wrangler is provided with double the number of storage pockets than you'll find in the Forester.
Safety
Both Jeep and Subaru offer exceptional safety as standard, with technology such as traction control and anti-lock brakes included in every model, in addition to a wealth of multi-stage airbags to provide total protection.
However, the 2015 Jeep Wrangler offers stability control with anti-roll, a device that is not found in the 2015 Forester. This means that driving with confidence is just that bit easier when you're behind the wheel of a Wrangler.
Drive the 2015 Jeep Wrangler Near Estevan, SK
The 2015 Jeep Wrangler truly outclasses the 2015 Subaru Forester, and is available now for Estevan and Indian Head drivers at Knight Weyburn CDJR. Visit our dealership today!