Is There a New Jeep Wrangler on the Horizon?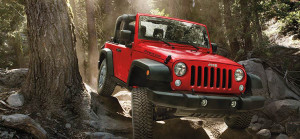 It's that time of year again! It's finally time to start snooping on automobile manufacturers and making our best guesses about what the next vehicle coming out is going to look and perform like. Right now we've got our eyes peeled for any new information coming out regarding the 2018 Jeep Wrangler. Continue reading to find out all we know about the upcoming vehicle.
What's the Haps?
So far one of the most exciting things to happen involving the 2018 Jeep Wrangler would be the slight glimpses of the vehicle we were able to get from spy shots. However, as expected, these shots mainly feature a nondescript vehicle that's fully covered and impossible to check out. That won't stop automobile enthusiasts though. We still will take anything we're given and try to make the best speculations that we can about the vehicle. So far, we've been able to theorize a handful of things about what we think we can expect from the 2018 Jeep Wrangler.
To begin, there's been speculation that we can expect a new design for the front and rear ends of the vehicle, an aerodynamic structure, a possible hybrid version, and a power retractable top. Rumor also has it that the 2018 Jeep Wrangler won't sport an all-aluminum body like many of its family members, and that instead it will be equipped with a full-steel chassis, making it a truly unstoppable machine. There was a brief period where there was a belief that a Wrangler pickup in the making, but the assumption was quickly shut down by FCA officials.
A handful of the more creative members of the enthusiast population have taken to creating speculative renderings of what the new vehicle will look like, which are quite impressive, but still no real images or concepts from Jeep have been confirmed.
While You're Waiting Visit Knight Weyburn CDJR
Since Jeep has commented on very little of the rumors and speculations floating around, the only thing we can do from here is patiently await any updates from the dealership. Until then, come visit the team down at Knight Weyburn CDJR and learn more about some of the other great Jeep vehicles we have in stock. Remember to keep up with our blog for more updates about the 2018 Wrangler.