Off-Roading Aftercare Tips and Tricks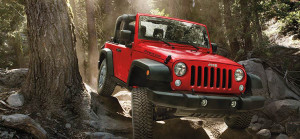 If you've ever been off-roading, or done research about taking your vehicle off the beaten path you know how taxing off-roading can be to your vehicle. However, it doesn't have to be as long as you remember to maintain your vehicle the proper way after every off-roading excursion. Keep reading and we'll give you some quick tips on how to upkeep vehicle maintenance after off-roading.
Tips and Tricks to a Healthy Off-Roader
Taking your vehicle off-road for the first or fifteenth time is always an exhilarating and unforgettable experience. Especially if your vehicle is decked out with all of the latest and greatest off-roading technology, like Jeep 4×4 tech. Even though exploring the unpaved paths is always fun, remembering to take the necessary steps to ensure that your vehicle stays in tip-top shape and is capable of going on many more adventures is crucial. Making sure that your vehicle gets the care it needs when returning home isn't as daunting as it may sound, just follow the tips in the list below and you'll be good to go!
After returning home from off-roading you should:
Clean your vehicle inside and out – Vacuum the carpets, rinse down the floormats, and scrub clean the exterior of your vehicle. If you've been in a particularly wet or muddy area, you may want to use a pressure washer to ensure that you remove all dirt and debris. Don't forget to clean under the hood!
Check your tire pressure – Before you start running errands after you return, make sure that your tires have even, appropriate pressure levels to ensure safety and enhance the driving experience.
Check for any damage or leaks – Sometimes you may hit a turn the wrong way or overestimate your ability to climb that rock. It happens, just make sure that when you return home you check for and remedy any damage to the suspension, 4×4 setup, or leaks from anywhere.
Check fluid levels – Check your vehicle's fluid levels to see if any of them need replacing.
Off-Road without Worries
As long as you heed the advice above, taking your off-roading vehicle out for regular adventures should continue to be both possible and exciting. If you want to make sure that your vehicle is properly maintained or you're looking to purchase a great off-roading vehicle then just come down to visit Knight Dodge of Weyburn and we'll help you out!